JUST as it's great to taste dishes in a restaurant you'd never attempt at home, so life's too short to order the same wines you'd stick in your supermarket trolley. And if you can find the perfect match (and I'm not talking first date here) – between what's on your plate and what's in the glass – then the meal out becomes more than a refuelling stop.
If wine were a religion George would be Pope (there are Polish precedents).
That's where the sommelier and his sage advice comes in. In my Manchester's Top 10 Restaurant Wine Lists I said of Chop Houses wine buyer George Bergier "If wine were a religion George would be Pope (there are Polish precedents)."
Tongue-in-cheek, I confess, but here I am again ready to rummage through his Bin-ends. It's an odd term, basically meaning the last bottles in a particular consignment or wine bin, sold on at a reduced price as fresh vintages come in.
So in the right hands a guarantee of a bargain – and a chance to sample a wine beyond the norm. George's are the right hands across the selection he oversees at Sam's, Tom's and Albert's. The influential Wine Spectator magazine may have described it as "one of the most outstanding wine lists in the world", taking into account the wide range, including 47 wines by the glass, but the clincher was surely real deal bin-ends and a generous cash margin policy on finer wines, allowing you to 'trade up'.
The wily Pole certainly burrows into some obscure trade outlets to capture wines like the 2007 Mercurey Premier Cru Clos des Barraults we are drinking near that bronze statue of LS Lowry In Sam's Chop House (the artist's lunchtime tipple, as I recall, was half of Wilson's Mild).
Mercurey, in the south of Burgundy, is best known for its reds, so this 100 per Chardonnay white from the Juillot estate is a revelation, still floral on the nose, the oak well integrated, mineral intensity but still fresh even with that amount of bottle age. For just £32!
There is a bin-end selection at the end of the thick leatherbound wine list and, at Sam's, the latest are chalked on two ornately framed blackboards. There are too few of the Mercureys to make it.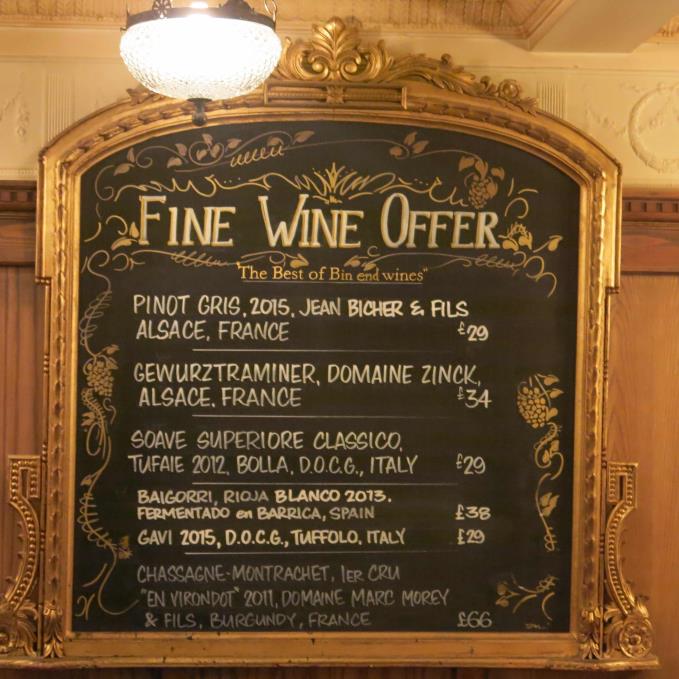 But up there at a (please believe me) remarkably generous price of £66 a bottle, Vosne Romanee Clos de la Fontaine Monopole, from a single plot, a silky, pure, perfumed expression of all that's best in Burgundian Pinot Noir. Complex but approachable.
In complete contrast is a Loire red, made from Cabernet Franc. Chinon, in lesser vintages, can be a thin, slatey mouthful. Not so this Chinon 2014 Les Morinieres from Joseph Mellot, which is all violets and blackcurrant on the nose and gorgeously rounded on the palate. Another bargain at £28.
Scanning the rest of the printed bin-end list (George has quite a few more rarities stashed away, we reckon) it's like Christmas has come early – and not in the sense that the Markets are everywhere.
Among the current whites look out for a duo from the Bolney Estate in Sussex – the aromatic Lychgate blend (£30) and another white, their Pinot Gris (£36), all cream, pears and honey but dry. The Chop Houses champion English wine, which is to be applauded – or maybe just toasted with a bin-end bottle of Kent's own Chapel Down Three Graces sparkler (£60).
But let's admit it Rioja, Burgundy and Bordeaux reds are a big draw to accompany the sturdy Chop House food in a vintage setting. So one final bin-end, sharing the board with the Vosne Romanee – Chateau d'Agassac 2010, a Cru Bourgeois from the Haut Medoc, drinking well and just £39. A drop of Claret with your Corned Beef Hash, Sir?
Chop Houses – Sam's, Back Pool Fold,M2 1HN; Mr Thomas's, 52 Cross St, M2 7AR; Albert's, Memorial Hall, 14 Albert Square, M2 5PF.
Click here to view our video interview with George Bergier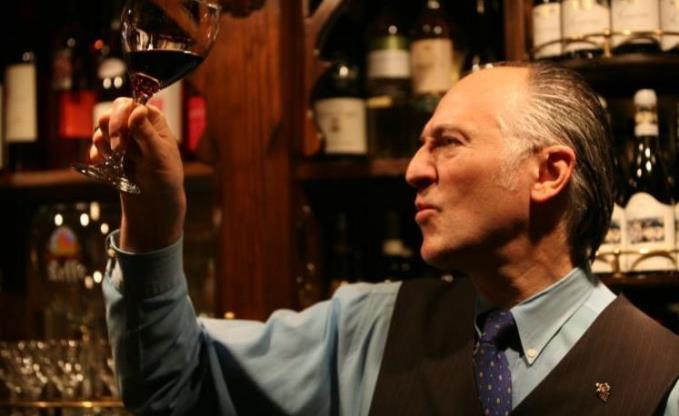 Powered by Wakelet