What?
Ryde is a cafe with a USP: cycling meets soups, pedalling meets paninis in an urban haven of peace and food.
Basically, they fix bikes. While you release your inner calm, they release your inner tube.
Meatball and mozzarella panini is formidable, as if designed to power you from the Baltic triangle to the actual Baltic Sea
Who?
Ryde is run by a trio of cycling fanatics who all bring very different skills to an operation unique to Liverpool. There's ex Royal Marine Donald Maclean whose foot was shattered by an IED while he was serving in Afghanistan in 2011.
"Bikes and cycling were a major part of my rehabilitation," he says. "I got more and more interested and in time I became a fully fledged mechanic."
Then there is chef and cycling instructor Ian Magill, previously seen teaching primary school kids the rules of the road as part of the Merseybike organisation that promotes safe cycling. He also owned and ran a juice bar in Maghull.
Last but not least, fitness guru Tasha Rocks wins the names and supervises the front of house. But each pitches in and does a bit of everything.
Unique to Liverpool? This isn't the first cafe based around bikes...
Well remembered. The Hub cafe, on Berry Street (where Richer Sounds is now) was spearheaded by actor Simon O'Brien in the 1990s, and very Camden Lock it was too.
"Yes, it was great but for Liverpool it was ahead of its time," Magill believes.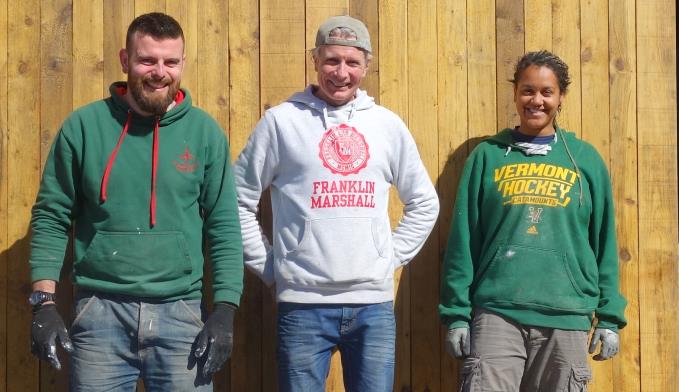 All their own work: Don, Ian and Tasha transformed a couple of dusty rooms at the defunct Cains Brewery
How?
Between 2001 and 2011 the number of 22-29-year-olds living in the city centre quadrupled and now it is estimated that there are at least 40,000 people residing in L1 to L3 apartments - with the number rising faster than you can say Elliot Group. The world has moved on and, in common with other metropolitan centres, cycling is the way to move people on.
In addition the city council wants to get 30,000 more Liverpudlians on their bikes over the next few years. Whichever way you look at it, that's one hell of a lot of Wet Lube.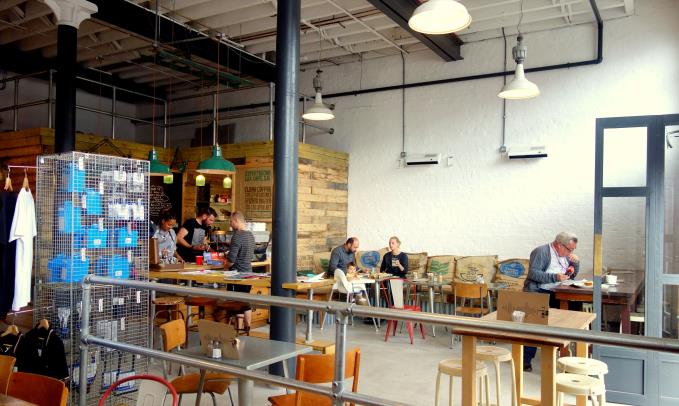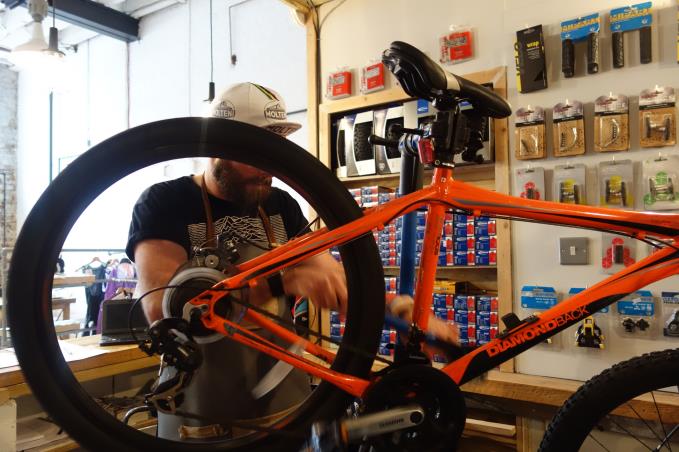 Hang on. Isn't Cains one of the UK's leading breweries?
Not any more. The huge canning plant, which once supplied the nation's supermarkets with their own brand lagers, has gone. Long time owners the Dusanj brothers are certainly to be acknowledged for their tenacity, reinventing the Victorian complex and renting out spaces to retailers such as Red Brick Vintage, a sprawling Aladdin's cave.
With their own sweat and toil, the Ryde trio have taken a couple of dusty barrel rooms across the cobbled courtyard and transformed them into a warm and welcoming destination: exposed brick, lumber, whitewashed walls; industrial chic meets world trade with one of the best equipped bicycle workshops you will find.
"We don't charge a fixed price for a service like Halford's. We take the condition of your bike into account, says Maclean in his Glasgow brogue. "This one that came in just now is just a few months old and needs a quick tune up. No more.
"And if you've got a puncture, we will repair it at cost price," he adds. "But it would be nice if you got a coffee and a cake while we are doing it."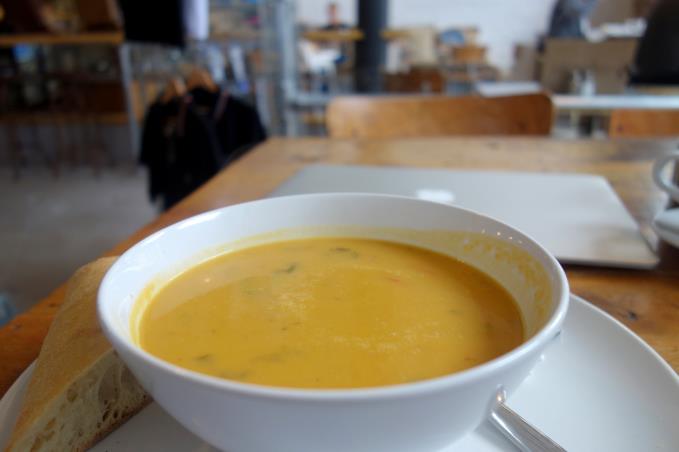 Excellent soup
A game of two calves
Perhaps conscious of the fuelling requirements of its customer base, Ryde is as generous with its protein and carbs as it is with the other side of its business model. Beans, for example, cascade in vast quantities like lava over mountainous steppes of toast that ooze molten butter (£2.75). Having swapped the saddle for cushions made from a hessian coffee sacks, people seem in no rush. Coffee (a very good fat black Americano for £1.60 ) is, as one might expect, organic; cakes are homemade.
The soup: Sweet potato, red lentil and coconut (£3.75) is enlivened by some flecks of chilli. Delicious, warming and just the thing to accompany a laptop workout over Ryde's speedy wifi.
The sandwich: Brie, figs and pear panini (£5.95) is rescued from creamy sweetness (if that's not your thing) by some well dressed bitter leaves.
Your honed bicycling body is a temple and Ryde isn't going to wreck it. There are crisp and zesty salads laced with beets, hummous, and goats cheese, that sort of thing. Their avocado mash is already achieving legendary status, as are their smoothies, packed with fresh berries.
On the other hand, a meatball and mozzarella panini (£5.95) is formidable, as if designed to power you from the Baltic triangle to the actual Baltic Sea.
Brie, figs and pear panini
Elsewhere
Displayed in cage lockers, an impressive range of cycling accessories and Lycra wear is for sale, Tweed lovers, look away now. Instead study one of the many cycle route maps, available free and covering Liverpool, Wirral, Sefton and St Helens. Organised bike rides from Ryde are coming next.
Conclusion
Can you suggest a better place in Liverpool to park your bike? OK, but please don't.
All scored Confidential reviews are paid for by the company, never the restaurant or a PR outfit. Critics dine unannounced and their opinions are completely independent of any commercial relationships.
Ryde Ltd,




The Courtyard, Cains Brewery Village,


Stanhope Street, L8 5XJ. 0151 374 2425.
Website.
Twitter @rydeliverpool
Score: 14/20


Food: 7/10
Ambience: 4/5


Service: 3/5
Venues are rated against the best examples of their kind: gastropubs against the best gastropubs, takeaways against the best takeaways, etc. On this basis, the scores represent...
1-5: Straight into the dog's bowl; 6-9: Netflix and chill; 10-11: In an emergency; 12-13: If you happen to be passing; 14-15: Worth a trip out; 16-17: Very good to exceptional; 18-20: As good as it gets.